What Is Tummy Tuck Surgery?
Tummy tuck surgery, or abdominoplasty, is a surgical procedure that treats changes in the abdominal appearance that can occur after having children or with significant weight loss. The surgery almost always includes removal of excess skin and may also include removal of fat in the abdomen and surrounding areas as well as repair of separated abdominal muscles. Tummy tuck surgery can be done in both men and women.
The traditional tummy tuck approach requires drainage tubes to prevent fluid from accumulating in the large space created by the surgery. Dr. Pollock (in conjunction with his father, a retired plastic surgeon and his practice partner) developed a unique approach over 20 years ago that surgically closes this space with what they have termed progressive tension suture technique. This allows the surgery to be done without drains and actually decreases the risk of fluid collections as well as decreasing the risk of other complications. It also allows for an easier recovery and a more rapid return to normal activities. Details of this technique will be discussed below.
There are many methods to address abdominal fat and tissue issues. Every tummy tuck procedure is individualized to the patient's unique needs and desires.
Am I a Candidate for a Tummy Tuck?
A good candidate for a tummy tuck has:
Excess hanging skin around the stomach
Extra fat deposits in the tummy region
Separated or weak abdominal muscles
Contact us if you would like to schedule a consultation with Dr. Pollock to gain an understanding of your available options and determine which technique will best meet your needs.
What Are the Benefits of a Tummy Tuck?
By tightening the abdominal muscles and removing excess skin, tummy tuck surgery creates a firmer, tighter, more youthful abdominal contour.
Deeper abdominal tissues can be repaired, and the skin is redraped and pulled taut through the progressive tension sutures. When the skin is anchored to the underlying tissues, it helps create a uniform distribution of tension for more even draping of the skin, improving the appearance of scarring. Tension is distributed over a broader area, as opposed to the conventional technique, which places the pressure directly on the incision.
What Are the Different Types of Tummy Tucks?
Modified Tummy Tuck
For a modified tummy tuck, power-assisted liposuction may be used for both the upper and lower abdomen. A short incision is made, the skin and fat of the lower abdomen (the flap) are lifted, and the separated muscles are repaired. Any excess skin is removed, and the incision is closed. Modified tummy tuck surgery is usually performed as an outpatient procedure.
Full Tummy Tuck
A full tummy tuck is similar to a modified tummy tuck but is more extensive, as it involves lifting the skin flap over the entire abdomen and repairing muscle separation. An overnight stay is often required after a full tummy tuck, but it may also be done as an outpatient procedure.
How Is a Tummy Tuck Performed?
Our approach to tummy tuck surgery allows for a safer, more comfortable recovery. During your initial consultation, Dr. Pollock will discuss your medical history and cosmetic goals to create a customized treatment plan. He will also explain the surgical techniques involved, expected convalescence, and expected results from the procedure. The techniques used will affect the cost of your procedure.
Progressive Tension Suture Technique
Dr. Pollock is the innovator of a unique procedural method that is now used worldwide in tummy tuck surgery, facelift surgery, brow lift surgery, and other procedures. The progressive tension suture (PTS) approach anchors the redraped skin to the underlying tissues at the end of the procedure.
PTS minimizes swelling, reduces the collection of blood and fluid, and speeds up the recuperation period. Complications, such as excess scarring, healing delay, and fluid accumulation, are usually prevented by the PTS technique.
We developed and reported our PTS technique to the Journal of Plastic and Reconstructive Surgery in June of 2000. With over 30 years of experience utilizing this technique in Dallas and Allen, Texas, we have produced a high percentage of excellent results.
The progressive tension suture technique helps to:
Evenly distribute the pull of the entire skin surface, which avoids tension at the skin closure and results in less scarring
Drape the skin evenly, without visible tension lines
Enhance the natural appearance of the contours
Eliminate the space under the skin flap to securely anchor the skin to the underlying tissues
Removes the most common complication of the tummy tuck: seroma formation (fluid collection)
Eliminates the need for drains, which minimizes post-operative care
Early resumption of upright posture and physical activity, which is an improvement over traditional methods that require a severe limitation of movement and ambulation in a bent position for several weeks
Enhanced appearance of the belly button by directly suturing the belly button from beneath the surface of the flap
Tumescent Liposuction or Superwet Fluid Infiltration
Tumescent liposuction or superwet fluid infiltration refers to the injection of the area to be suctioned with saline (saltwater solution), local anesthetic, and epinephrine. This solution plumps up the tissues, making fat removal easier, constricts blood vessels, which reduces bleeding, and blocks nerves, providing painless surgery.
Power-Assisted Liposuction (PAL)
Power-assisted liposuction (PAL) is a relatively new adjunct to traditional liposuction. It is a device that reciprocates or moves the cannula in and out at a very high rate of speed. This vibrating effect cuts through the fatty tissues, facilitating fat removal.
The device is particularly helpful for fibrous areas that can be done through small incisions and adds no increase in risk or expense. PAL is surpassing ultrasonic-assisted liposuction (UAL) in use among plastic surgeons, with safety concerns and expense being the major considerations. We use PAL exclusively in our practice.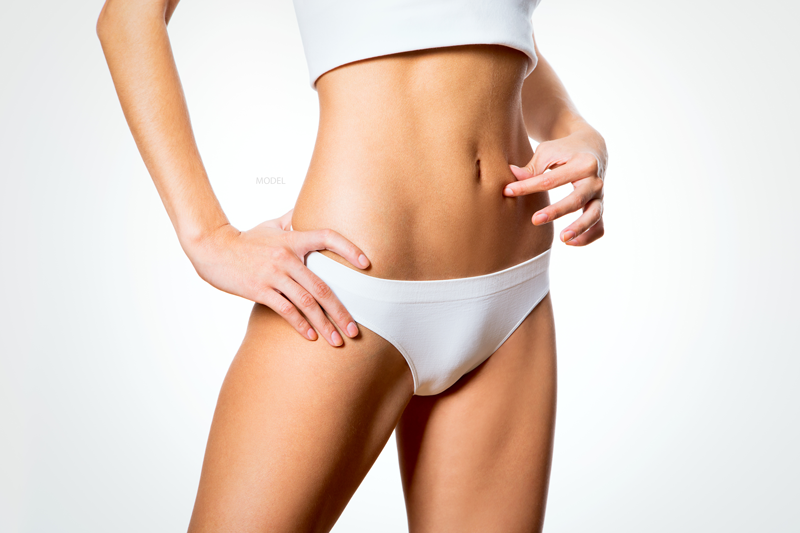 What Is Recovery Like After a Tummy Tuck?
After your tummy tuck, you will be required to wear compression garments to support your new contours and reduce side effects. You will experience swelling and bruising for the first few days. Most patients must avoid activities for three or four weeks, depending on the nature of the activity. You should be able to resume work two weeks after your surgery, depending on the nature of your job and recommendations by Dr. Pollock.
As with any surgical procedure, we have seen complications after a tummy tuck; however, they have been uncommon and usually minor.
What Should I Consider Before Tummy Tuck Surgery?
Abdominal deformities, such as abdominal fullness, excess skin, excess fat, etc., usually related to pregnancy or genetics, can be corrected with liposuction and tummy tuck surgery.
An accurate diagnosis by a surgeon trained in all types of body contouring surgery is important. Partially trained physicians may perform liposuction in other medical practices, but most are not trained (or interested) in the more complex techniques used for abdominoplasty. Results of liposuction in a patient who is a tummy tuck candidate are usually disappointing.
Not All Tummy Tuck Procedures Are the Same
Most patients are pleased with the results of this surgery, when it is appropriate, well implemented, and successful. However, patients should consider the following:
There are many methods of performing abdominoplasty. There is considerable variation in the results, the rate of complications, and the length and severity of recuperation. It would be a mistake to assume all tummy tuck techniques are the same.
Before having surgery, it is important to understand the basics of the method, the average length of convalescence (especially restrictions after surgery), and the surgeon's rate of complications.
Why Should I Consider the Progressive Tension Suture Technique?
Traditional tummy tuck techniques commonly result in persistent fluid collections, known as seromas. Concern over this accumulation leads many surgeons to insert drains beneath the surface to drain the fluid; however, these drains are not always successful and increase the patient's length of recovery because they disrupt the healing process.
The revolutionary PTS technique used by Dr. Pollock not only eliminates the need for drains but secures the abdominal tissue in a way that prevents fluid accumulation. This results in a quicker and less risky procedure.
How Much Does a Tummy Tuck Cost?
The cost of a tummy tuck can vary greatly depending on the techniques you undergo, the length of the surgery, the experience of the surgeon or injector, and anesthesia, facility, and other fees.
After a consultation, Dr. Pollock can give you an exact price for your tummy tuck surgery using his revolutionary progressive tension suture techniques. Financing options are available.
When Will I See My Results From a Tummy Tuck?
You can expect to notice a significant improvement in your abdominal contours after a tummy tuck. Results from tummy tuck surgery include a youthful definition and a thinner torso. You can enjoy long-lasting results, especially when you follow a healthy lifestyle and diet.
What Other Procedures Does Dr. Pollock Offer?
Tummy tuck surgery can be performed as a standalone procedure or in combination with one of the following:
The progressive tension suture technique will be applied when appropriate.
Want to Learn More About Tummy Tucks in Dallas and Allen, Texas?
Dr. Pollock performs tummy tucks in Dallas and Allen, Texas, and he serves many nearby areas, including Plano, Richardson, and McKinney, as well as the larger Dallas-Fort Worth-Arlington metropolitan area. 
If you are experiencing bothersome excess skin and fat surrounding your mid-region, contact Dr. Pollock to set up a consultation by calling our Dallas location at (214) 363-2575.
Financing Information
We are committed to helping you attain your cosmetic goals and are happy to work with you to find a payment method or plan that fits your situation. We offer financing through CareCredit, which provides flexible repayment options.
Financing Available