Brow Lift in Dallas and Allen, TX
The position of the brows affects the appearance of the entire face, but most importantly, the appearance of the eyes. The aging forehead skin thins and weakens, and brows tend to descend, causing the thick skin beneath the brows to cover the eyelids. By surgically elevating the eyebrows, the brows themselves can be aesthetically shaped, and the excess skin of the upper lids reduced, often minimizing the need to remove the eyelid skin directly.
Model
Who Is a Candidate for Brow Lift Surgery?
A good candidate for brow lift surgery is someone who can agree with the following:
Your brows have lowered over time
You have excessive forehead wrinkles and/or excessive upper eyelid skin due to sagging brows
You have relatively good skin elasticity
You are in good overall health
You are a non-smoker or willing to give up smoking before and after the procedure
You have realistic expectations for the results
How Is Brow Lift Surgery Performed?
North Dallas Plastic Surgery's Unique Approach
We have originated the Progressive Tension Suture Technique that allows the surgeon to accurately shape and securely fix the brows, eliminate frown lines, and minimize forehead wrinkles.
This technique has provided a more consistent, natural, and long-lasting result. Benefits include:
An accurately placed incision along the frontal hairline

Creation of flap of skin and underlying fat that does not involve the muscles and nerves of forehead

Direct fixation of the brow area skin to underlying tissues

Use of progressive tension sutures to advance and anchor the forehead skin to the underlying tissues

No drains required

Imperceptible final scars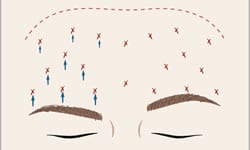 We have found this to be a very effective approach to sagging brows—with a high rate of satisfaction and minimal complications.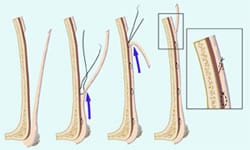 An example of our Progressive Tension Suture Technique to anchor and advance the skin of the forehead. Minimizing recovery, eliminating the need for drains, yet enhancing the final result.
What Is the Standard Recovery Time for a Brow Lift?
Most patients can function and walk around one day after the procedure. However, we typically recommend that patients take five to seven days off work to rest and heal. The exact rate of recovery differs from patient to patient. Note that the brow area may be slightly numb for several months post-surgery.
Patients should avoid vigorous exercise and activity for several weeks.
How Long Will My Brow Lift Results Last?
A brow lift typically offers long-standing results. Ultimately, every patient is different, and the length of their results can vary based on genetics, the natural aging process, skincare, lifestyle, and more. On average, a brow lift shows results for five to 10 years. Eventually, the aging process will bring the brows back down. At this time, the patient may select to undergo another brow lift procedure.
Frequently Asked Questions About Brow Lift Surgery
Can you combine a brow lift with other procedures?

Yes, it's quite common to combine a brow lift with other cosmetic procedures. Many brow lift patients choose to combine their forehead lift with eyelid surgery (blepharoplasty). This additional procedure addresses drooping upper eyelids and puffiness beneath the eyes.

Patients may also choose to have a facelift at the same time. This is because the brow lift focuses on the upper third of the face while the facelift focuses on the bottom two-thirds. Combining the two procedures allows a patient to have full facial rejuvenation.

Alternatively, patients looking for additional non-surgical rejuvenation may consider neuromodulators like BOTOX® Cosmetic, Jeuveau™, and dermal fillers like JUVÉDERM®, Restylane®, and RADIESSE®.

At what age should I get a brow lift?

Most people who get a brow lift do so between the ages of 40 and 65. However, some genetic conditions may make a brow lift appropriate at a younger age. Schedule a consultation with Dr. Pollock if you believe you might be interested in a brow lift.

Is a brow lift painful?

Patients are given an anesthetic during the procedure, so they feel no pain. Afterward, there may be some swelling and discomfort as the body heals. All pain can be managed with over-the-counter pain medication.

Are there risks associated with a brow lift?

A brow lift procedure is a surgical operation, and all surgeries hold some risk. Complications around anesthesia may occur. Additionally, surgeries always carry a small risk of infection, bleeding, and scarring. For some patients, a slight asymmetry between the brows may result. And, in very rare cases, brow muscle function may be damaged.

However, many of these risks are handled during the procedure consultation. Your plastic surgeon will evaluate your current health, as well as your medical history, to understand if you hold any excessive risks before proceeding with the operation.

How much does a brow lift cost?

The final cost of your brow lift will depend on the extent of correction and any procedures being performed in combination with your forehead lift. You will be given an accurate cost estimate during your consultation with Dr. Pollock.

Since brow lift surgery is considered elective, insurance does not cover the cost.
Financing Information
We are committed to helping you attain your cosmetic goals and are happy to work with you to find a payment method or plan that fits your situation. We offer financing through CareCredit, which provides flexible repayment options.
Financing Available