Posted April 12, 2022 in Liposuction, Tummy Tuck
4 Minute Read:
If you are considering surgery to reshape your body, being educated about your options can help you choose.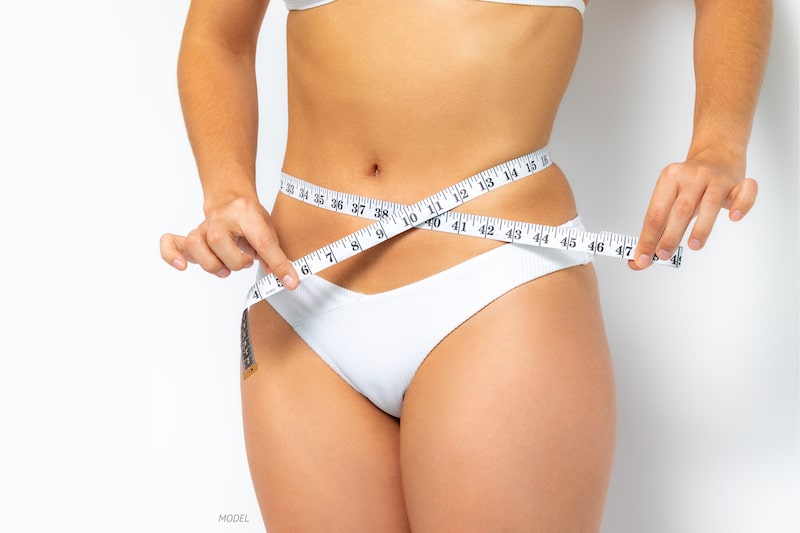 Of course, an in-depth consultation with a board-certified plastic surgeon is vital in making the final decision.
Is Liposuction or Tummy Tuck Better for You?
Both tummy tuck surgery (abdominoplasty) and liposuction are effective methods of fat removal and offer a flatter tummy, usually with excellent results.
If you are wondering about these procedures, the differences, recovery for each, and which of these is right for you, the following insights will help you understand more about these procedures, so you can be better informed when you discuss these procedures with a plastic surgeon.
1. Both Treatments Remove Unwanted Abdominal Fat
Liposuction can remove fat in several areas — the abdomen being most popular — and more than one area can be treated at once. Liposuction is also appropriate to remove small, stubborn pockets of fat that do not respond to diet and exercise.
Tummy tuck surgery can also remove excess fat (through liposuction or other excision methods).
2. Liposuction Only Requires Small Incisions — Tummy Tuck Does Not
During liposuction, the abdominal area is injected with an anesthetic agent and epinephrine to numb the area and help loosen the targeted fat. 
After, a few small incisions are made in the fatty areas, and a suction device is attached to a thin tube (cannula) that is inserted under the skin to further loosen, dislodge, and remove the excess fat.
Alternatively, a tummy tuck requires an incision that runs horizontally from hip to hip (this may be longer or shorter depending on your needs). This surgery is performed under general anesthesia.
After liposuction, you may be able to return to your regular activities within 48 hours (however, this may be significantly longer, depending on the extent of the treatment).
The same cannot be said for tummy tuck surgery, which requires several weeks of downtime.
It is important to check in with your plastic surgery several times to learn more about when you can resume your normal activities.
3. Liposuction Doesn't Address Loose Skin
Liposuction can improve skin laxity slightly, very slightly.
If a significant amount of loose skin exists, a tummy tuck is the better choice, as this surgery is designed to remove excess skin left from significant weight loss or pregnancy.
4. Tummy Tuck Surgery Targets Fat AND Skin
A tummy tuck requires a more traditional surgery to remove excess abdominal fat and skin at the same time. 
This option is excellent for issues relating to past pregnancies because it can restore previously displaced local muscle groups (diastasis recti) and can be combined with a breast augmentation, lift, or other procedure for a Mommy Makeover.
Recovery time with tummy tucks is lengthier than with liposuction because tummy tucks require a more in-depth surgery. Your incision will be closed with staples or stitches and covered in a gauze dressing. Prescription painkillers and antibiotics can be prescribed to ease discomfort and reduce the risk of infection.
Follow-up appointments are vital during recovery, which may last up to six weeks. You will be advised to drink plenty of fluids and take it easy at this time to ensure the incision heals well.
Dr. Pollock performs the drain-free tummy tuck, which does have a quicker recovery period than standard tummy tuck methods.
5. Results of Liposuction and Abdominoplasty Are Not Interchangeable
Both procedures offer virtually immediate results that improve over time (as swelling subsides).
A tummy tuck can eliminate unwanted fat and skin while tightening loose muscle tissue at the same time.
Liposuction can eliminate unwanted fat in different parts of the body, including in stubborn, hard-to-reach pockets.
If you are looking to tone your abdomen by ridding it of hard-to-target fat pockets (but still have good skin elasticity), then liposuction alone may be appropriate. However, if you have loose skin or complications with the abdominal muscles, a tummy tuck is your best bet.
When performed by a qualified plastic surgeon, both options are safe and effective.

VS.

Which Is Right for You?
Dr. Todd Pollock is a well-respected, board-certified plastic surgeon who provides tummy tuck surgery and liposuction at both his Dallas and Allen cosmetic surgery practices. He and his team welcome your call to schedule a consultation. 
We look forward to going further in-depth and helping you determine your best solution. Call our Dallas office at (214) 363-2575 or our Allen office at (214) 509-0270.