Posted December 13, 2021 in Plastic Surgery Recovery, Tummy Tuck
3 Minute Read:
Tummy tuck surgery has been around for years. It entails the removal of extra tissue and fat from the stomach, resulting in a flat and toned tummy. The recovery time varies depending on the patient, but it might take a few months before you feel like your pre-surgery self again.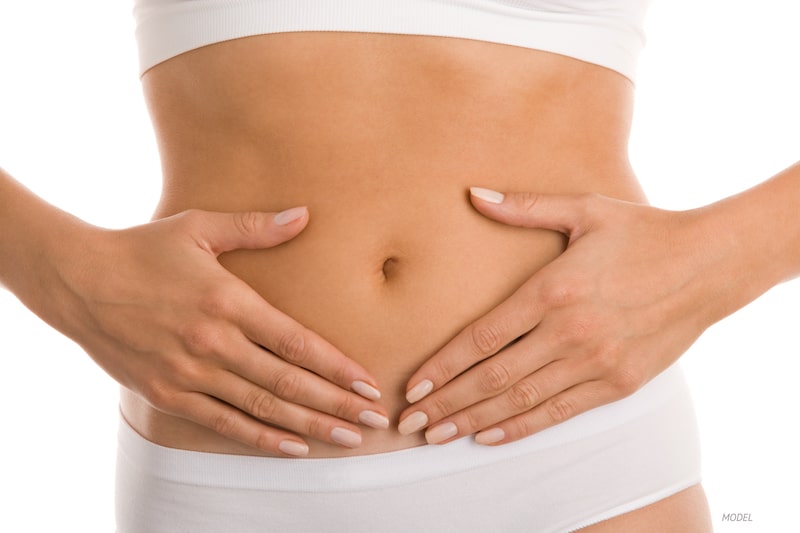 Here are seven mistakes to stay away from when recovering from tummy tuck surgery.
1. Trying to Cook, Clean, or Watch Children
Tummy tucks, even the easier-to-recover from drainless tummy tuck, require significant downtime. Your incisions are highly fragile, and any rubbing or contact might cause serious complications, such as wound reopening or infection.
During your tummy tuck recovery, you will need to take it easy and avoid vigorous activity. The last thing you want during this period is to hurt yourself or add to the discomfort.
Patients should refrain from the following during the first few days of their recovery:
Cleaning your house. This includes dusting, vacuuming, doing dishes, or anything outside (such as yard work).
Cooking. Unless you are heating up already prepared meals, cooking requires bending and reaching for ingredients and cooking utensils. This can be detrimental.
Childcare. Depending on the age of your child, your parental responsibilities range from picking up and playing with your children to driving your children to school and their after-school obligations. All of these activities must be monitored during your recovery.
Suppose you feel the need to clean your house, contact a professional. If you have children, make sure they're under the care of a responsible adult while you're resting.
2. Eating Salty Foods
Salty meals may make the stomach feel even more cramped. After a tummy tuck, you may need to make some adjustments to your diet for the first few days.
Limit your salt intake for at least the first week after your tummy tuck, as it aids swelling reduction.
3. Driving, Especially in Those First Two Weeks
Driving requires a seated posture, which may impede blood flow to your lower extremities. You should avoid driving since it can cause post-surgical injuries. Additionally, your weakened core will make it very difficult for you to turn while driving, making the practice difficult and dangerous for you and others.
Also, you cannot drive until you stop taking painkillers.
4. Trying to Sleep Normally
If you are a stomach sleeper (or even a side sleeper), you will have to make some adjustments.
The ideal sleeping posture is lying on your back with your legs elevated.
5. Trying on or Buying New Clothes.
You should avoid trying on or purchasing new clothes right after the operation. Swelling will be present, and tummy tuck scars are still raw. These take time to recover.
You don't want to purchase a new wardrobe while your final figure is still being finalized.
6. Trying to Exercise
You need to avoid strenuous activity. Working out can cause swelling, pain, or injury in that area.
In most instances, exercise is not allowed for six to eight weeks after a tummy tuck.
Please wait until you are cleared by Dr. Pollock before returning to your normal exercise routines.
7. Trying to Socialize
The first few days after abdominoplasty are critical since you need ample rest and time to recover.
Being social means being in contact with others, extending your arms to give hugs, or shaking hands, which you should avoid during the early days of recovery.
Interested in Learning More About What You Should Do After Your Tummy Tuck?
Need more info on getting a tummy tuck? Contact Dr. Pollock today to schedule a consultation. Call our Dallas, Texas, office at (214) 363-2575, our Allen, Texas, office at (214) 509-0270, or fill out our online contact form.
Our skilled and experienced team will be happy to answer all of your tummy tuck questions about the preparation, surgical process, or recovery. Don't wait to see the toned midsection you desire!