Posted July 15, 2021 in Choosing a Plastic Surgeon
6 Minute Read:
Before venturing into the world of plastic surgery and cosmetic enhancement, it is essential to ask the right questions to ensure your procedure is safely performed by a certified plastic surgeon who abides by professional skills, extensive experience, and ethical standards to enhance your results.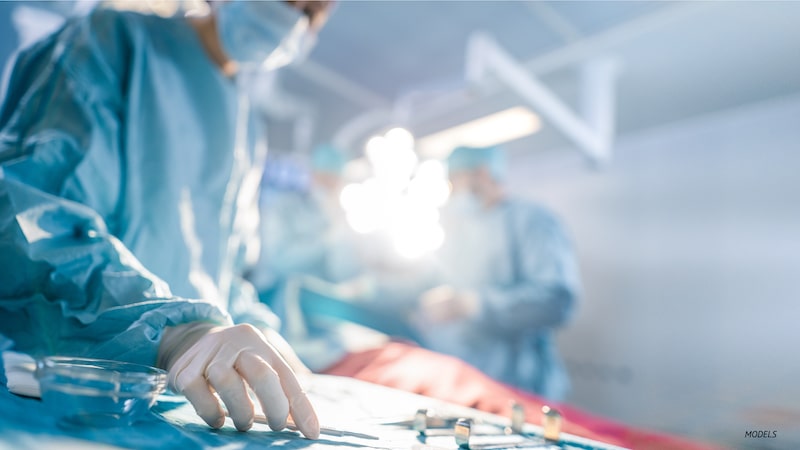 You should always conduct research and acquire a second opinion when considering undergoing a procedure.
Dr. Pollock holds a firm belief that a physician's credentials, reputation, and ethics are an essential part of selecting a plastic surgeon.
What Is the Significance of a Board-Certified Plastic Surgeon in Dallas?
Board certification can be confusing to patients, as there are many medical societies that "self designate" as a certifying organization. The American Board of Medical Specialties (ABMS) is the oldest and most respected board certifying organization in the U.S. The parent board oversees 24 specialty boards, including The American Board of Plastic Surgery (ABPS).
When a doctor claims board certification in an ad or website, it is very important to know which board they are certified through (because it may not be through the ABPS). A physician may designate themselves as a plastic surgeon but be certified by an ABMS board other than the ABPS or a self-designated certifying society. A wise patient should do their due diligence when considering a plastic surgeon.
For instance, a board-certified cosmetic surgeon is not the same (or comparable) to a board-certified plastic surgeon. Cosmetic surgery is only a small part of the extensive training requirements required to be certified by the ABPS. (Please see the graph below.)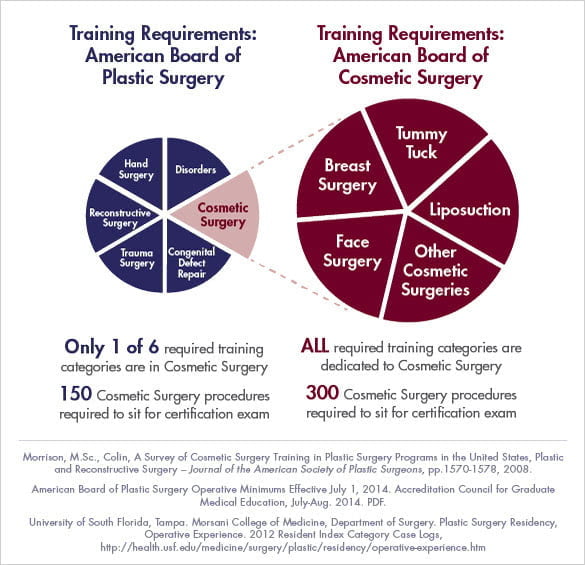 You can verify your surgeon's certification status by visiting the American Board of Plastic Surgery's website.
Other ways to confirm ABPS certification is through respected Plastic Surgery societies. The American Society of Plastic Surgeons (ASPS) and the American Society of Aesthetic Plastic Surgeons (ASAPS) are membership organizations that require their members to be certified by the American Board of Plastic Surgery (ABPS).
What Is the Importance of Hospital Privileges?
Another way a patient can assess a surgeon's training and background is to confirm that they have hospital privileges to perform your procedure.
In many states (Texas included), licensed physicians can perform nearly any procedure in their office, regardless of their training. However, just because they can, it does not mean that they should.
Some office operating rooms and ambulatory surgery centers do not have the training, credentialing, and certification requirements needed to perform surgery safely.
Hospitals, on the other hand, are comprehensive in confirming a surgeon's background and credentials — which are reviewed every two years. Before granting privileges, hospitals will thoroughly confirm the surgeon's accredited training, licensing, board certification, lawsuit history, medical board sanctions, and peer references.
Patients must do their homework beforehand by asking the right questions and checking various sources.
What Is the Best Way to Use Online Review Sites to Choose a Dallas Plastic Surgeon?
While review companies have gained popularity for their ease of use and ease of access, they are still businesses looking to make a profit, which means they often charge doctors for greater visibility.
Therefore, the reviews you see on some of these review sites may not reflect the most skilled doctors but instead the doctors most willing to pay the higher premiums. This does not correlate to skill or training.
The ASPS found that the top three consumer review sites — Google, YELP, and Facebook — are very popular for potential patients seeking a qualified plastic surgeon.
Still, these sites have biases that limit their worth.
Google
Google requires reviewers to use their first and last names. Patients may be hesitant to use their real names to post a review regarding their personal experiences. This can skew the reliability of the reviews.
YELP
Yelp requires reviewers to post under a first name and the first letter of the last name.
In the past, Yelp has been sued for hiding reviews; however, the courts have previously determined their right to do so.
Since the reviews hidden are often positive (since they are looking for surgeons to pay more for better visibility), the result can have a negative slant on good plastic surgeons.
Facebook
Much like Google, patient reviews are not anonymous unless the reviewer has an account under a fake name. And as there is no verification process, anyone can leave a review.
Online review sites are a common source for potential patients to verify their plastic surgeons; however, the best way to judge an online review of a plastic surgeon is to check if the doctor is a board-certified plastic surgeon.
What Can I Tell About a Dallas Plastic Surgeon From a Bad Review?
Alternatively, while some online review sites require names, other sites are anonymous. This means that negative reviews can potentially be fabricated from disgruntled employees, competitors, or anyone with a grudge.
This has nothing to do with their quality of work.
What Are the Dangers of Using Social Media Influencers as Inspiration for Plastic Surgery?
In recent years, there has been an undeniable correlation between plastic surgery and social media. From influencers posting their own experiences to previous patients giving shout-outs to their favorite surgeons, social media platforms have become an additional way to find and learn about a potential surgeon.
However, a social media profile isn't indicative of a qualified doctor. Many plastic surgeons with large amounts of followers have become "minor celebrities" themselves, and while this designation does not negate their training and experience, it also doesn't guarantee it.
A social media influencer's appearance does not truly describe the quality of their plastic surgeon. People often seek celebrities on social media for inspiration because of their status in society, but this could lead to false expectations.
It is important to consult a board-certified plastic surgeon to discuss the ideal expectations for your procedure.
How Do I Know if I Am Overpaying for My Plastic Surgery Procedure?
Plastic surgery prices can vary by thousands of dollars for any given procedure. Potential patients may choose the least expensive option even if that surgeon is not the best trained or even board certified.
Many factors contribute to plastic surgery costs. These include the techniques used for the operation, anesthesia fees, facility fees, surgeon's fees, pre-surgical tests, and post-surgical medications and dressings.
While a higher-priced procedure does not guarantee the best quality results, a "bargain" surgery should make you think twice. You will have to live with your results for the rest of your life, and, therefore, your plastic surgery should not be something to cut corners on.
What Can I Expect During My Initial Consultation?
During your first consultation with our board-certified plastic surgeon, Dr. Pollock, you will be able to explain your concerns and goals for the procedure(s) you may be considering. Dr. Pollock will answer all of your questions and provide an in-depth personal consultation tailored to your specific needs.
This consultation is an essential part of the surgeon selection process. You will be able to form a personal opinion about your prospective surgeon and your comfort level with them.
Have More Questions?
Plastic surgery can seem like a foreign experience, but it is important to seek a board-certified plastic surgeon with the credentials needed to serve your goals best.
If you are interested in learning more about your plastic surgery options, call our Dallas office at (214) 363-2575, our Allen office at (214) 509-0270, or fill out our online contact form today!