Posted April 26, 2021 in Tummy Tuck
3 Minute Read:
The drainless tummy tuck is a tummy tuck technique that uses progressive tension sutures to eliminate the most difficult part of tummy tuck recovery—the need for drains. It also reduces the risk of the most common type of post-abdominoplasty complications.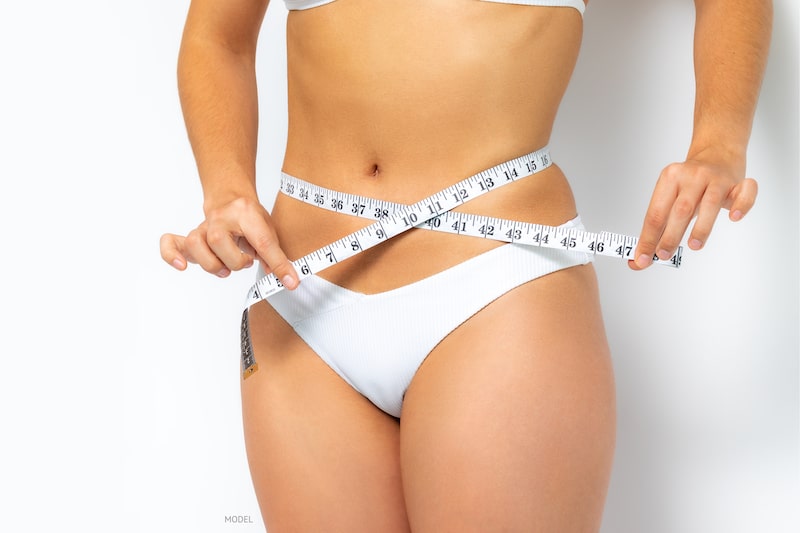 Traditional tummy tucks require drains to be placed into the skin to eliminate excess fluid from the body after surgery. If this fluid is not drained and instead allowed to collect beneath the skin, you may be left with a significant problem.
While removing this fluid is essential in traditional tummy tuck surgery, drains are not pleasant. They are uncomfortable, unsightly, and potentially messy, not to mention that they put you at greater risk for infection. And these drains usually have to stay in for an entire week after your tummy tuck.
But, what if these drains were not necessary?
A drainless tummy tuck eliminates this need.
These benefits make the drainless tummy tuck significantly better than more traditional forms of tummy tuck surgery. This is why plastic surgeons are now performing no-drain tummy tucks worldwide.
Why Does Fluid Collect After Surgery?
During a tummy tuck, blood and lymph vessels are damaged. These damaged vessels produce fluid as an inflammatory response.
In a standard tummy tuck, your skin is draped over the underlying musculature and the primary incision closed. This means that nothing is attaching the skin and remaining fat layers to the muscles beneath, creating a gap for the fluid to collect since nothing is preventing it from doing so.
What Makes the Drainless Tummy Tuck Different?
The drainless tummy tuck uses progressive tension sutures (PTS) to eliminate gaps between tissues after the surgery—think of these sutures as a quilt. These sutures use dissolvable stitches to hold tissue together at various places beneath the skin, which speeds healing and prevents excess liquid buildup (seromas), a common complication.
A good example is this: Imagine you have a large cut on your arm. If nothing is done, this area will swell and fill with fluid as the body tries to repair the damage. However, if the two sides of the wound are held together by a bandage, the body can heal the wound faster as the natural healing process treats it as a smaller wound.
This is the idea behind the PTS technique. Holding the disrupted tissues together prevents excess swelling and allows the body to heal faster without as much inflammation. By getting the body to treat post-surgical incisions as smaller wounds, recovery becomes faster, easier, and far safer for the patient.
Why Are Progressive Tension Sutures Important?
PTS techniques have been widely adopted by plastic surgeons around the world for tummy tuck surgery. Dr. Pollock pioneered this technique, and he has published papers on the subject in The National Library of Medicine. His paper has been cited by other surgeons and researchers over 20 times. 
The advantages of PTS for tummy tuck surgery are significant. The technique is so successful it has been expanded to help improve other surgical procedures as well. PTS was originally designed for tummy tuck surgery but is applicable in several other procedures.
These include:
Certain types of breast reconstruction
If you are looking for a tummy tuck that will heal faster, with fewer complications and no drains, a drainless tummy tuck may be right for you.
If you do want a drainless tummy tuck, you should choose the plastic surgeon who pioneered the technique.
Why not choose the best when you have the choice?
Are You Ready for a Drainless Tummy Tuck?
Please call our office today at 214-363-2575 to schedule a consultation to see if a no-drain tummy tuck is ideal for you. We are happy to answer any of your questions and explain how our technique differs in detail. We look forward to hearing from you.